Day of Defeat is all about teamwork. Playing any of six different classes, teammates can utilize the built-in communication systems to coordinate attacks, defensive stands, and tactical retreats. With its unique mix of special abilities and weapons, each class plays a vital role in a team's success. The goal of the game is to capture all of a map's control points while eliminating enemy troops.
Wave Reinforcements
After dying, you'll be temporarily placed in a 'Reinforcement Pool' from which you can observe the action but not participate. The first player killed triggers a reinforcement timer. All players killed after the timer begins are tied to this timer, and when it runs out, the entire player pool simultaneously returns to battle (or "respawns").
Territorial Control
To win a round, a team must capture, then simultaneously hold, all of the flags scattered throughout a map. Some flags can be captured simply by running over them. Other flags require a player to stand close to the flag for a set period of time before the capture takes place. These 'Area Capture' flags occasionally require multiple players near them to initiate the capture.
---
Scoring in Day of Defeat: Source is based on capturing specific areas of each map. Teams gain points for capturing and holding these points, while individuals are awarded points for participating in a capture.
Capturing Territories
Teams receive one point per flag captured. One point is also awarded to every individual who participated in the capture. A team receives 50 points for capturing the entire map.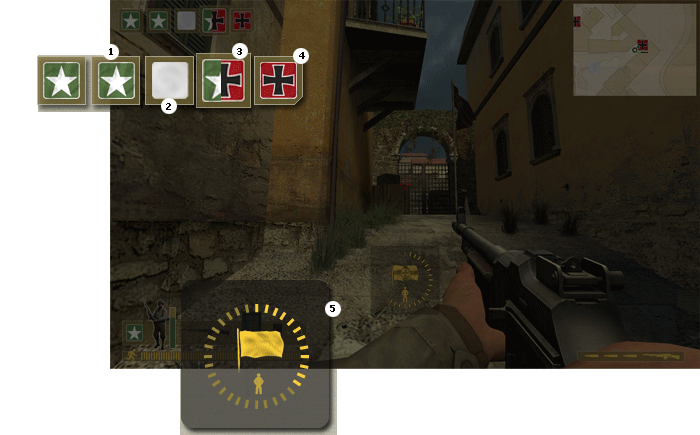 1) Allied Territories
2) Neutral Territories
3) Capture in Progress
4) Axis Territories
5) Capture Status
Two-player territories
The center territory on most maps requires two players from the same team to be present in order to capture the point. These multi-player capture points are represented by this icon:


Blocked Territories
The capture process cannot start if there are enemies in the immediate vicinity of the flag. A blocked capture point is represented by this icon:


---
The following is a brief explanation of controls unique to Day of Defeat: Source. For a complete listing of controls, select "Options" from the main menu in Day of Defeat: Source, then click on the "Keyboard" tab.
Use Voice Communication (default: k)
Lets you speak to your teammates through a microphone. Anything you say into the mic while holding down this key is transmitted to everyone on your team.
Voice Menu (default: c,v,b)
Brings up a quick selection menu of voice commands. Each selection will activate the associated voice signal and a hand signal (where one exists) for that command.
Drop Primary Weapon (default: g)
Drops your current weapon to make room for another weapon. This ability comes in especially handy if you run out of ammo.
Drop Extra Ammo (default: h)
Drops ammo so that a teammate can pick it up. Any class can share ammo with any other class.
Prone (default: z)
In addition to crouching, users can go 'prone' - basically meaning they lay on the ground. Machine Gunners can deploy their bipod only when prone. (Or when in an MG Nest area.) A user's weapon will become temporarily disabled while 'going prone' or standing back up.
Sprint (default: SHIFT)
Holding down this key will give you a burst of speed. Stamina drains quickly when sprinting.
Secondary Attack (default: MOUSE2)
Many weapons have a secondary attack option. Secondary Attack with an infantry rifle initiates either a bayonet stab or a rifle butt. For MG's, this key is used to deploy the tripod, while sniper rifles use it to activate the scope.
Pick Up Grenades + Use Item (default: e)
If a grenade lands at your feet, you can pick it up and toss it back with this key. Be careful, though, because grenades have a five second fuse and can easily explode in your hand!
Overview and Mini-Maps (default: m)
Cycles between a full screen overview map, a corner-mounted mini-map, and no map. Very useful for orienting yourself to the objectives and your teammates. Your icon is surrounded by white and is slightly larger than your teammates' icons, which have black borders.